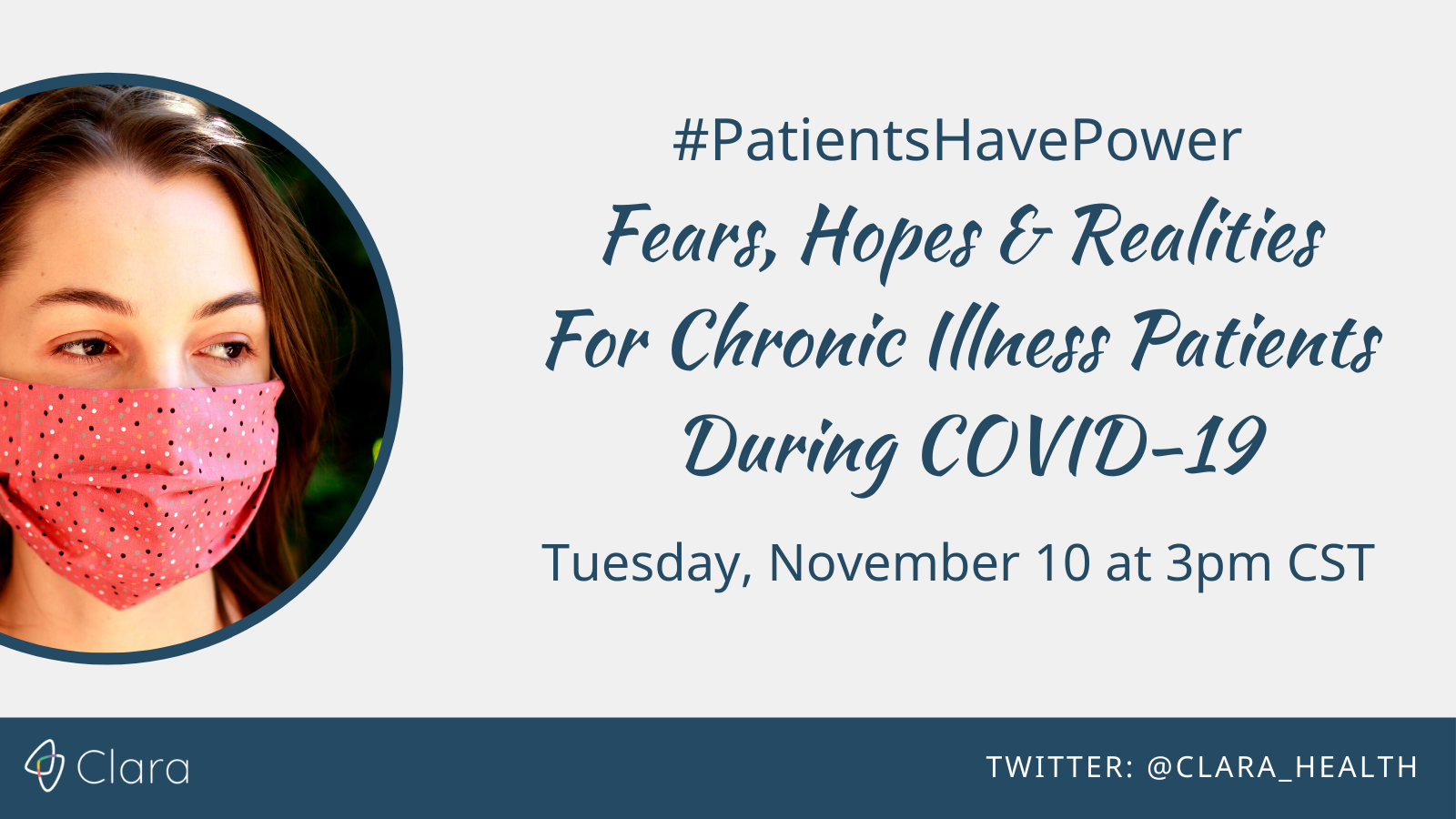 This year has been incredibly difficult for many people due to the global pandemic. From isolation and self-quarantine to social distancing and wearing masks, everyday life has changed significantly for almost everyone. For chronic illness patients, these changes (and their impacts) have been amplified enormously based on everyday challenges and needs.
Regardless of diagnosis, patients during the last nine months have found themselves on the desperate quest for information and resources. From scheduling in person or telehealth appointments to accessing treatments via home health, understanding individual risk of contracting (& successfully battling) COVID-19 to how to best stay safe and what to modify surrounding medication regimens or daily routines, there has been such a heavy mental load carried by patients this season.
We're bringing back the #PatientsHavePower Twitter chat this month to talk about the ways we've been impacted by the pandemic, and how we're learning to thrive despite the challenges. We hope to inspire patients, caregivers, and healthcare professionals by sharing ideas and finding connections while we're at home.
Join Clara Health on November 10th at 3 PM CST, 4 PM ET for a #PatientsHavePower Twitter chat where patients and allies will come together to discuss everything about living with a chronic illness during COVID-19 - from fears to hopes and expectations to realities.
Patients Have Power: Fears, Hopes & Realities for Chronic Illness Patients During COVID-19 Questions
Q1: When COVID-19 began spreading in your area, what were your initial fears? How have those changed over the last 9 months?
Q2: What has changed the most about your daily life this season? How has that impacted your health condition(s)?
Q3: When the pandemic began, what was your expectation about receiving medical care, seeing your doctor(s) and getting your routine medications?
Q4: How has your reality come to differ from those original expectations?
Q5: What have you heard about regarding COVID-19 clinical trials and observational studies? Is this something as a chronic illness patient you'd be interested in learning more about?
Q6: What is your biggest hope for managing life & health going into 2021 while COVID-19 continues to spread?
CT: Has this chat given you any new ideas? Inspired you to take action? What are your takeaways?