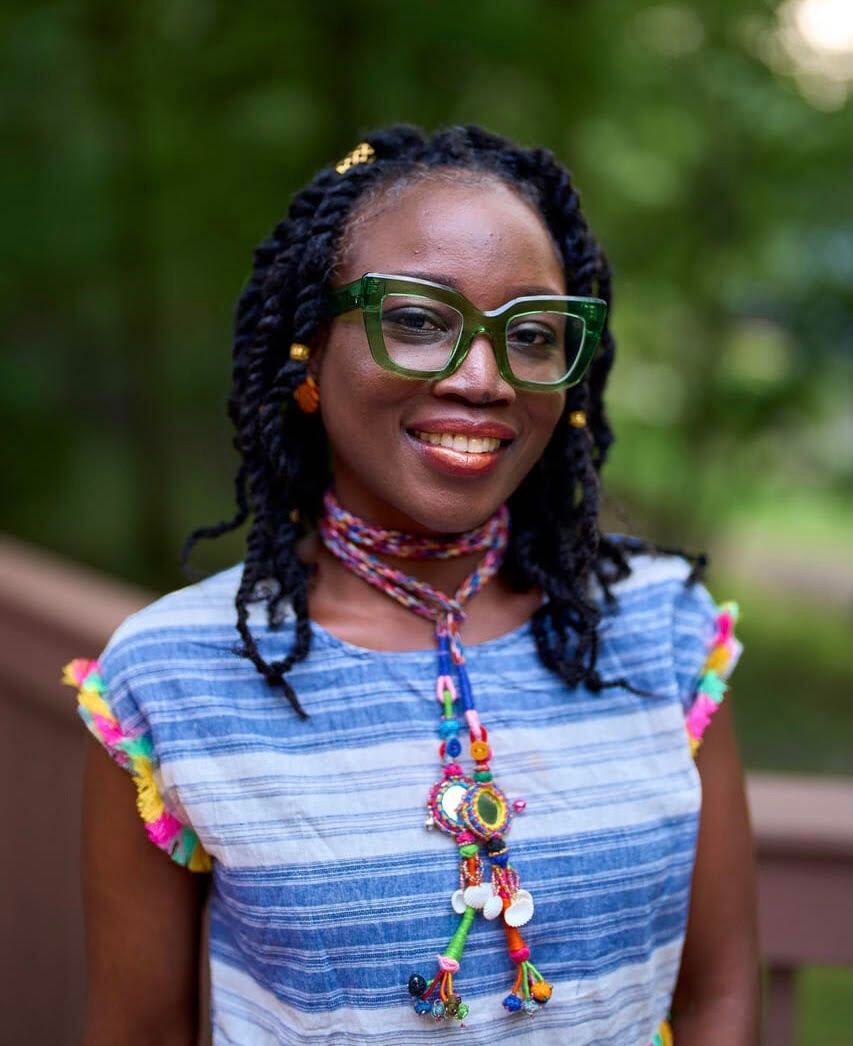 Editor's note: The purpose of this article is to examine current and historical injustices relating to clinical research and how to begin to correct these issues in the future. It's not meant to be a comprehensive look at this topic but rather an educational tool designed to move the conversation forward toward meaningful change. While we interviewed several advocates and other leaders for this piece, their experiences and viewpoints are not representative of the Black community as a whole. The community has a range of ideas on this complex topic.
As a child, Monique Gore-Massy lived with skin that was constantly dry, itchy, and inflamed. She wore long sleeves to cover rashes and tried different medications and diets to heal her sensitive skin. Doctors diagnosed her with atopic dermatitis, a lifelong form of eczema caused by an overactive immune system.
When she was 10-years old, at the suggestion of her dermatologist, Gore-Massy's parents enrolled her in a clinical research study. "I just felt, I'm just gonna do it because my mom and dad said that I needed to. But I also wanted to improve the quality of my life," she says. For the next seven years, she volunteered to test different eczema medications—some applied to her skin, others were injected.
Today, Gore-Massy works as a lupus advocate and understands the importance of clinical trials to science and medicine.  Studies like the ones she took part in help researchers figure out whether a new drug or device is safe and will work, or whether they can modify or enhance current treatments.
As a child, though, Gore-Massy and some of her family members were apprehensive about clinical research.
"What does it mean to my community? How might it benefit research for other individuals of African descent? I never saw an individual that looked like myself."
Injustices in Clinical Research
Hesitancy surrounding medical research—and healthcare as a whole—is a familiar and painful topic in the Black community.
Many are aware of the Tuskegee Syphilis Study of 1932, where 600 Black men involuntarily participated in a decades-long clinical trial of untreated syphilis, believing they were receiving free medical care. Instead, 128 died of syphilis and related complications, and dozens more passed the illness to their partners and children at birth.
And there's Henrietta Lacks, a Black woman whom doctors diagnosed with terminal cervical cancer in 1951. Doctors at Johns Hopkins University began using her "immortal" cancer cells without her consent, which have led to groundbreaking medical discoveries and millions of dollars for researchers. Neither Lacks nor her surviving family members were ever compensated.
Today, the U.S. Food & Drug Administration (FDA) regulates clinical trials, and the Institutional Review Board supervises them. These bodies are tasked with ensuring the safety of clinical trial volunteers and that researchers are running clinical trials ethically.
Even with these regulations, disparities still exist today. One example is the FDA's "exception from informed consent" (EFIC) process. While most research involves gaining patients' consent, there are special cases where it's not required.
In a medical emergency, there may be little time to no time to discuss participation in a clinical trial and a patient may not be responsive. But researchers still need to test a drug or device in emergency conditions. In 1996, the FDA acknowledged this issue by creating the EFIC process. The goal of EFIC is to balance the ethics of scientific research with its potential benefits.
But, a 2018 study shows that Black patients are overrepresented in these types of trials, making up 29% of participants in EFIC trials in the U.S. despite making up around 14% of the total population. Researchers are still investigating the reasons behind this disparity.
The Role of Trust in Clinical Research
Scientists, health advocates, and community groups are more closely examining diversity and equity in healthcare and how these issues impact Black participation in clinical research.
Each year, the FDA's Center for Drug Evaluation and Research publishes demographic data for clinical trials of drugs new to the U.S. market. The 2019 report shows that Black Americans represented 9% of all clinical trial participants.
The disparity is even more pronounced when you break the numbers down by specific health conditions. For example, cardiovascular disease disproportionately impacts Black people, but they represent just 2.5% of clinical trial participants worldwide.  
Scientific research also sheds light on barriers preventing Black patients from seeking medical care and enrolling in clinical trials, revealing that a lack of trust may play a role.  
One study shows distinct racial differences when it comes to trust in healthcare providers. Compared with white patients, Black patients are less likely to trust physicians.
Tamika Felder, a women's health advocate, says many Black patients are also "scared of a system that has systematically treated them less than human." She founded the nonprofit Cervivor after being diagnosed with cervical cancer and losing her fertility at age 25.
Felder created what she wished she'd had access to during her cancer journey: a space to learn and talk about the experience of living with a life-threatening illness. When the topic of clinical research comes up within her circle, "people are very wary—rightfully so—because of painful things in the past."
Partnering with pharmaceutical company Eli Lilly, researchers from two historically Black colleges and universities—Tuskegee University and Morehouse School of Medicine— interviewed Black leadership groups from across the country on their perceptions of trustworthiness in the research community. They found that trustworthiness must be established before trust can be built and that both are essential in enhancing African American participation in research. At the same time, trustworthiness is a necessary condition when there is historical evidence that supports distrust.
"African Americans are suspicious—and they have a right to be," the researchers write.
"One can argue that they should prioritize their suspicion and distrust of certain systems to give themselves a better chance for quality health and healthcare. On the other hand, one can argue that those who desire to be trusted should invest in their own trustworthiness by developing an attitude and a culture of empathy, compassion and care."
Overcoming Trust Barriers
Despite these trust barriers, there are best practices that clinical researchers can use to build confidence with the Black community.
1. Recognize biases and inequities
Clinical researchers must first acknowledge that racial inequality in healthcare and clinical research has existed in the U.S. for hundreds of years and continues to persist even today.
"We don't live in a kumbaya world where we're all equal and all on a level playing field," Felder says. "You first have to acknowledge that and do your part to change it."
Also, examine your prejudices. Research notes that physicians may have unconscious or  implicit racial biases, viewing Black patients as less educated and less intelligent than white  patients, which can negatively affect doctor-patient communication and overall care.
2. Get to know the community
As researchers recruit clinical trial participants, they should consider partnering with local organizations actively working with the Black community.
Melodie Narain-Blackwell is the founder of Color of Crohn's & Chronic Illness (COCCI). The health equity organization serves Black, Indigenous and people of color (BIPOC) living with inflammatory bowel disease and other chronic illnesses. COCCI hosts information and resource sessions within underserved communities, connecting patients with opportunities to participate in studies.
"You have to start with people who are building communities, those who are doing the work and have a more patient-centered focus," says Narain-Blackwell.
"I always give [patients] the opportunity to understand that things have changed. You have a lot more opportunity to ask questions, understand, and be a voice to shape research. I validate their feelings, and then ask them if they're open to being educated or hearing more."
Connecting with a community also happens beyond research. As a clinical case manager at HOPICS Trauma Recovery Center, Wayne Bennett runs an art therapy program for crime victims and witnesses. It's sensitive work that requires him to first build a rapport with his clients before they dive into therapy. He suggests clinical trial organizers do the same—set aside days where they go into communities and get to know the people they're trying to recruit.
"It seems really simple, but bring coffee to the community and just start a conversation about who you are and what you're doing," says Bennett. "Ask for permission. Do you think it would be wise for us to come here? Don't just assume it's ok."
3. Enhance communication
Studies suggest that effective doctor-patient communication is critical to patients' physical and mental well-being. Healthcare providers who are comforting, caring, and answer questions are more likely to gain their patients' trust.
Researchers should strive to be transparent about a clinical trial's goals and methods. "From an educational standpoint, do we really have a full understanding of what a trial looks like?" says Gore-Massey. "Many patients and care partners have not been granted that level of trust."
Potential trial participants may want to know:
Who's funding the trial?
Who's conducting it?
Is the trial for treating, preventing, or diagnosing a condition?
Will it be interventional or observational?
How much of a time commitment is required?
4. Be more inclusive
Include the Black community at every stage of the clinical trial process, from research teams to marketing materials. "If they're not represented in plain sight in educational materials, websites, and videos, where else are they not represented? This population is going to continue to be left behind in every aspect," says Narain-Blackwell.
Here are some ideas for building trust and engaging Black clinical trial participants:
Include more Black advisors and researchers on your clinical trial team and advance them into leadership roles such as principal investigators. Research shows that Black patients who visit doctors of the same race are more satisfied with their care.
Create marketing materials that feature different races and ethnicities. People in underrepresented communities want to see themselves reflected in media.
Offer regular training for research teams to learn about engaging with the Black community.
Recognize that the Black community is not a monolith. Some individuals may trust science and clinical research, while others don't. Tailor your messaging to reach the most people.
"At the end of the day, we're all people," says Bennett. "Respect one another in that way and realize that I'm not just a subject of your test. I'm a participant and we're working on this together. If you can bring that to the forefront, we're more willing to participate."
Clara Health is working to do our part to create a more diverse and equitable clinical trials space. From building relationships with community-based organizations that serve marginalized populations to consulting with patients and caregivers from diverse backgrounds. We're putting in the work and holding ourselves and our clients accountable. If you have any ideas or feedback for us, we would love to hear them! Please email David Banda at david@clarahealth.com