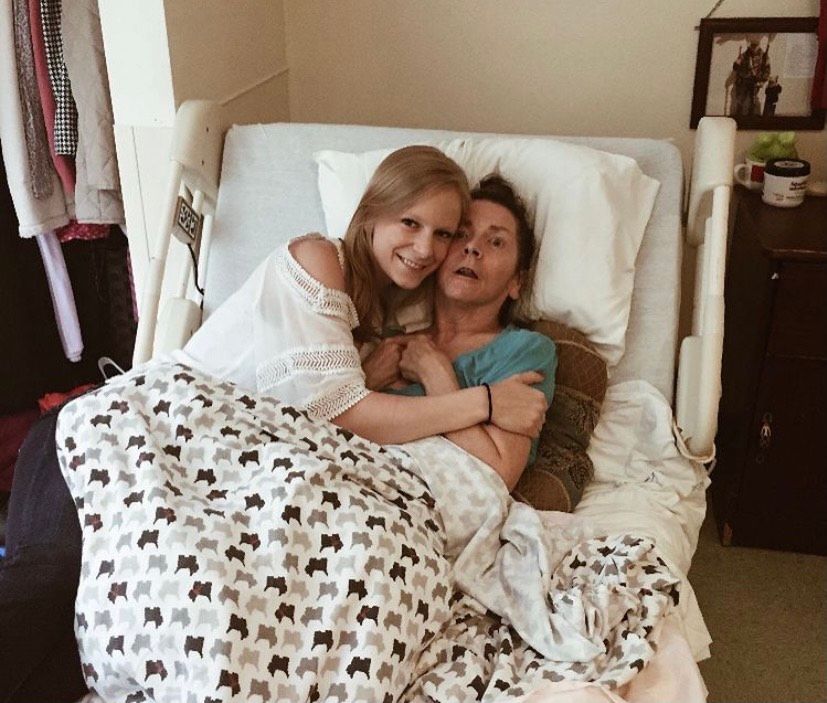 Gabby McNary still remembers the day she tested positive for Huntington's disease. "It was January of 2015," she explains. "After a year of genetic testing, my neurologist told me that my results were in. When she walked into the exam room, she couldn't look at me. She read over the report and quietly told me that my CAG (or DNA sequence) was 50. I had my answer."
Twenty years old at the time, Gabby recalls immediately collapsing to the floor, feeling like she was in a bad dream: "I was so angry. I didn't really know how to feel or react. For the next three days, we were snowed in due to a big, winter storm. I took that time to sit with my feelings. I told those closest to me and just took it all in."
She adds, "I remember walking around campus at SUNY Albany, where I went to college, watching people smile, laugh, and live their normal lives. My world was completely shattered, but I knew the rest of the world wouldn't stop turning just because this happened to me."
Gabby says she forced herself to jump right back into life because she refused to let the diagnosis be part of her identity.
"I do remember really needing my mom at that point. But I couldn't tell her I tested positive," she says. "I knew the news would absolutely destroy her, and I needed to protect her. She couldn't find out that I, too, had Huntington's disease."
A Daughter's Love and Strength
Gabby's mom, Teresa, had been diagnosed with the fatal, genetic disorder at the age of 30, after giving birth to Gabby and Gabby's older brother, Robbie.
"My mom and three of her four sisters inherited Huntington's disease from their estranged father. After he died, the family found out that he not only had Huntington's, but he had unknowingly passed it onto his children."
Gabby was five years old when her mom was diagnosed. First came the behavioral changes—the depression, anger, anxiety, mood swings and OCD. Several years later, the cognitive and physical changes began to set in. Teresa slowly lost her balance and coordination, and she could no longer drive.
"It was incredibly painful to watch her deteriorate before our eyes. I went back and forth, feeling anger towards the disease, and anger towards my mom for not being like other moms. I resented her for not being there for me in the ways that I needed."
Because Gabby's father struggled to manage Teresa's care, Gabby took over. She bathed her mom, fed her, dressed her, brushed her hair and teeth, and carried her around the house. She became her mother's sole caregiver.
"During my senior year of high school, I remember being accepted to SUNY Oneonta to play softball," she says. "My dad wanted me to go. He pleaded with me to go live my life, but I couldn't leave my mom. Oneonta was an hour and a half away from home, and I couldn't imagine not being there for her. So I stayed in Albany to be close."
Soon after, Teresa entered a nursing home. "It was an incredibly painful decision—and one that I fought. But in the end, it was the best place for my mom because we could no longer care for her at home."
Gabby adds, "Letting go was one of the most difficult things I have ever had to do. Because I had invested so much of myself in my mom's health and care, I basically lost myself. I didn't know who I was outside of being her caretaker. I felt so helpless when she left home."
In October 2017, four years after entering the nursing home, Teresa passed away from Huntington's disease.
"It happened very quickly. One day, my mom spiked a fever of 104. The next thing I knew, she was put on life support so we could all see her before she passed. I spent the night with her, singing to her and hugging her. It was our time to say goodbye."
Embracing Resilience and Hope
After Teresa died, Gabby realized just how much childhood trauma she had endured at the hands of Huntington's disease.
"Growing up, everything in my world was unstable. I never knew what would be waiting for me at home. I constantly walked on eggshells. This caused anxiety, panic attacks and endless nervousness. But thanks to medication and counseling, I have worked hard to get past years of trauma."
Telling her story, spreading awareness and helping with medical research are also very important to Gabby. She has participated in several clinical trials because she believes in the significance of ending Huntington's disease.
"Some of the trials are extensive—involving difficult lumbar punctures and brain scans," she explains. "While I wish the clinical trials paid for my boyfriend, David, to travel with me for much-needed emotional support, I understand that it's not feasible because the trials only cover individuals being tested."
But Gabby also knows the trials are extremely valuable: "As I see it, I can sit around and wait for a cure, or I can do whatever is humanly possible to be part of a cure. My hope for a cure will never waiver or be defeated."
Today, Gabby has a lot to look forward to. She recently opened her own State Farm insurance office in West Chester, Pennsylvania. And she and David are planning to get married and start a family in the next few years.
"I'm 26 now, and I can't wait to be a mom. My goal is to have a baby by age 30 because I am well aware that the clock is ticking. Life is short. We are saving money for IVF, so I can ensure that I don't pass on this cruel disease."
She adds, "After my diagnosis, I grieved and moved forward. I learned to live in the moment. I no longer live in fear. I believe that when Huntington's disease comes, it comes. And that's just my reality."